Botanical Illustrations around 1800
Project headed by Prof. Dr. Kärin Nickelsen.
This project encompasses the first (and so far: only) in-depth study of how eighteenth-century botanical illustrations were produced, both in terms of the material side of this process and in terms of considerations related to the illustrations' use in botany. In addition to this historical work the illustrations' visual language is explored, with particular emphasis placed on the difficult issue of colour.
The project achieved (on hand from a sample of illustrations of six plant species) a description of how botanical illustrations were improved and developed, ascertaining the criteria that drove this process, which was arrived at through a careful study of the many copying links that were discovered between images of the same species – a sophisticated strategy that fulfilled the exacting requirements of eighteenth century scientific botanical illustrations. It transpired in further work (e.g., medieval planet diagrams) that these criteria were applicable also in other cases to describe the dynamics of how scientific illustrations are evaluated and, consequentially, improved.
The monograph that grew out of this project ("Draughtsmen, Botany and Nature: The construction of Eighteenth Century Botanical Illustration", see below) was published in a prestigious series of Springer and was awarded several international prizes.
Currently selected aspects of the project are being elaborated in more depth, such as the cooperation between botanists and craftsmen (in particular engravers, draughtsmen and gardeners) by Henriette Müller-Ahrndt.
Results were published in Nickelsen, K. (2006): Draughtsmen, Botanists and Nature: The Construction of Eighteenth-Century Botanical Illustrations, Springer, Dordrecht.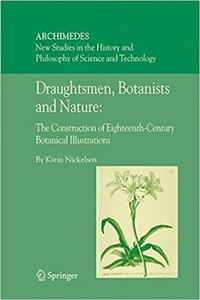 Further Publications:
Nickelsen, K. (2018): Image and Nature. In: H. A. Curry, N. Jardine, J. Secord, E. Spary (Hgg.): Cultures of Natural History. Cambridge Univ. Press, 2nd Edition. XX-XX
Nickelsen, K. (2018): Johann Gottlieb Gleditsch und der zeichnende Gärtner. Botanische Abbildungen an der Berliner Akademie, ca. 1740-1780. In: Lennig, P.; Mücke, M.; Schnalke, T. (Hrsgg.): Lehren – Sammeln – Forschen. Das anatomische Theater im Kontext des 18. Jahrhunderts. Kadmos. S. 55-69.
Nickelsen, K. (2016): Illuminierungspraktiken. Zur Handkolorierung naturhistorischer Tafeln des 18. Jahrhunderts. In: Andre Karliczek (Hg.), Farbe als Akteur und Speicher, Univ. Jena. S. 101-129.
Nickelsen, K. (2008): Korrespondenzen und andere Netze: Die Konstruktion von Pflanzenbildern im 18. Jahrhundert. In: Dauser, R.; Kempe, M.; Mauelshagen, F.; Stuber, M. (Hrsg.): Wissen im Netz. Botanik und Pflanzentransfer in europäischen Korrespondenznetzen des 18. Jahrhunderts (Colloquia Augustana), Akademie Verlag, Augsburg.
Nickelsen, K. (2007): "Abbildungen belehren, entscheiden Zweifel und gewähren Gewissheit". Funktionen botanischer Abbildungen im 18. Jh. Wiener Zeitschrift zur Geschichte der Neuzeit 7, 52-68.
Nickelsen, K. (2007): "In deutlichen Beschreibungen und richtigen Zeichnungen gemeinnütziger". Abbildungen in der Gesellschaft Naturforschender Freunde zu Berlin (GNF), 1773-1800. Annals of the History and Philosophy of Biology 11, 155-176.
Nickelsen, K. (2006): Von Bildern, Herbarien und schwarzen Abdrücken. Repräsentation von Pflanzenarten um 1800. Haussknechtia 11, 149-166.
Nickelsen, K. (2006): Wer oder was ist ein Ehrenmitglied? Diskussionen und Praktiken in der Regensburgischen Botanischen Gesellschaft, 1790-1800. Hoppea 67, 271-288.
Nickelsen, K. (2006): "On employera les meilleurs Graveurs pour les Figures". Zeichner und Stecher der Berliner Akademie der Wissenschaften 1700-1806. Berichte zur Wissenschaftsgeschichte 29, 293-308.
Nickelsen K. (2006): Botanists, draughtsmen and nature. The construction of eighteenth-century botanical illustration.Studies in History and Philosophy of Biological and Biomedical Sciences 37, 1-25.
Nickelsen K. (2006): The challenge of colour. Eighteenth-century botanists and the hand-colouring of illustrations. Annals of Science 63, 3-23.
Nickelsen, K., Liess, H.-Ch. (2003): Geschichte, Gehalt und Veränderung wissenschaftlicher Abbildungen. Bildwelten des Wissens: Kunsthistorisches Jahrbuch für Bildkritik. Vol. 1, 1. p. 116-119.
Nickelsen, K. (2002): Alle Gestalten sind ähnlich, und keine gleichet der andern. Bilder von Pflanzenarten im 18. Jahrhundert. In: Müller-Wille, S. (ed.). Sammeln, Ordnen, Wissen. Max-Planck-Institut für Wissenschaftsgeschichte, Berlin (Preprint 215). S. 13-30.
Nickelsen, K. (2000): Wissenschaftliche Pflanzenzeichnungen – Spiegelbilder der Natur? Botanische Abbildungen aus dem 18. und frühen 19. Jh. Bern Studies in the History and Philosophy of Science, Bern.